Probiotic Lactobacillus- Clarifying Booster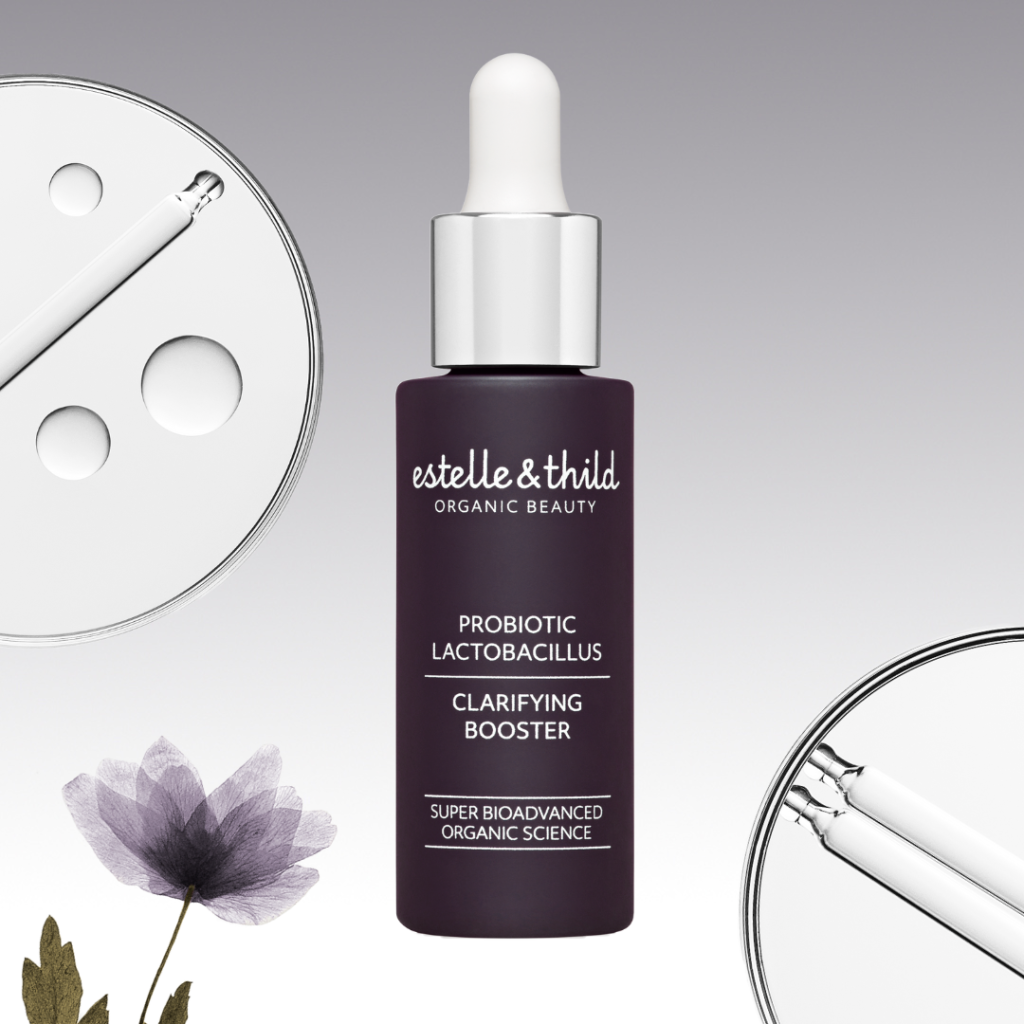 You know what they say, Balance is Key, and this also applies to our skin. Find your way back to rebalanced skin with our blemish-preventing member of the Super BioAdvanced family- the Probiotic Lactobacillus Clarifying Booster.
Enriched with the hero ingredients Probiotic Lactobacillus and 2% Sopholiance, our Clarifying Booster targets blemishes, skin oiliness and spots, revealing a balanced complexion. Gear up your skin's own defense and strengthen its barrier integrity to protect from external aggressions, whilst waving goodbye to redness. Regulate your sebum production and pull the plug on Propionibacterium Acnes, the bad guy responsible for acne.
Ingredient Glossary
​​Sopholiance S/Candida Bombicola Ferment- The Balancing Bombicola
If you want those blemishes to leave your skin, ​​Sopholiance S is there to give you a helping hand. It is a sebum controlling agent that contains Sophorolipids, derived from a strain of yeast (Candida Bombicola). Its main goal is to promote a healthy microbiome, regulate sebum production, help reduce skin oiliness and inhibit the bacteria responsible for acne, Propionibacterium Acnes. This hero ingredient is also great for protecting the skin from environmental damage and for promoting a more even skin tone!
Symreboot L19/Lactobacillus Ferment- The PRObiotic Paradise
Have you heard of Lactobacillus Ferment? It's time to learn about it, because it is actually found naturally in our bodies. It is a probiotic strain of bacteria that contains beneficial bacteria to help promote a healthy skin. Lean back and enjoy the countless benefits that Lactobacillus Ferment has to offer. Wave goodbye to inflammation and restore your sensitive skin's own defense while improving your moisture, for a silky soft skin! As if that wasn't enough, Lactobacillus Ferment protects your skin from environmental damage and assists your skin in reducing acne and redness, as well as improving your overall skin tone.
Organic Liquorice Extract – The Anti-inflammatory TREATment
When you think of liquorice, you may initially think of candy; however, the herb is much more beneficial for your skin than the sugary treat. Liquorice Root is a powerful ingredient with numerous anti-inflammatory skin benefits. It is rich in glabridin, an antioxidant that helps to reduce oxidative damage and lighten the skin by dispersing and removing excess melanin. This helps to reduce the appearance of dark spots and can make the skin brighter with a more even skin tone over time. Liquorice Root also actively restores sensitive skin's own defense, reduces redness, increases moisture and strengthens the skin's barrier integrity to protect it against exterior aggressions.
How do I use the Clarifying Booster?
Use morning and night on clean skin. Use the Clarifying Booster as the base of your daily facial beauty routine to control skin oiliness and optimize skin comfort. Apply a few drops and distribute gently with your fingertips on the whole face. Increase application in problematic areas. Good to know: It can be combined with makeup!
Is the Clarifying Booster suitable for me?
The Clarifying Booster is suitable for all skin types, specially recommended for blemished or impure skin, skin suffering from excess oiliness and sensitive, red skin.
How will the Clarifying Booster serve my skin?
-Works on reducing blemishes & spots + inhibiting the bacteria responsible for acne
-Balances your skin
-Targets skin oiliness
FYI…
-COSMOS Certified Organic
-Vegan
-Cruelty Free
-99,9% Natural