10% Vitamin-C + Triple Hyaluron- Glow Booster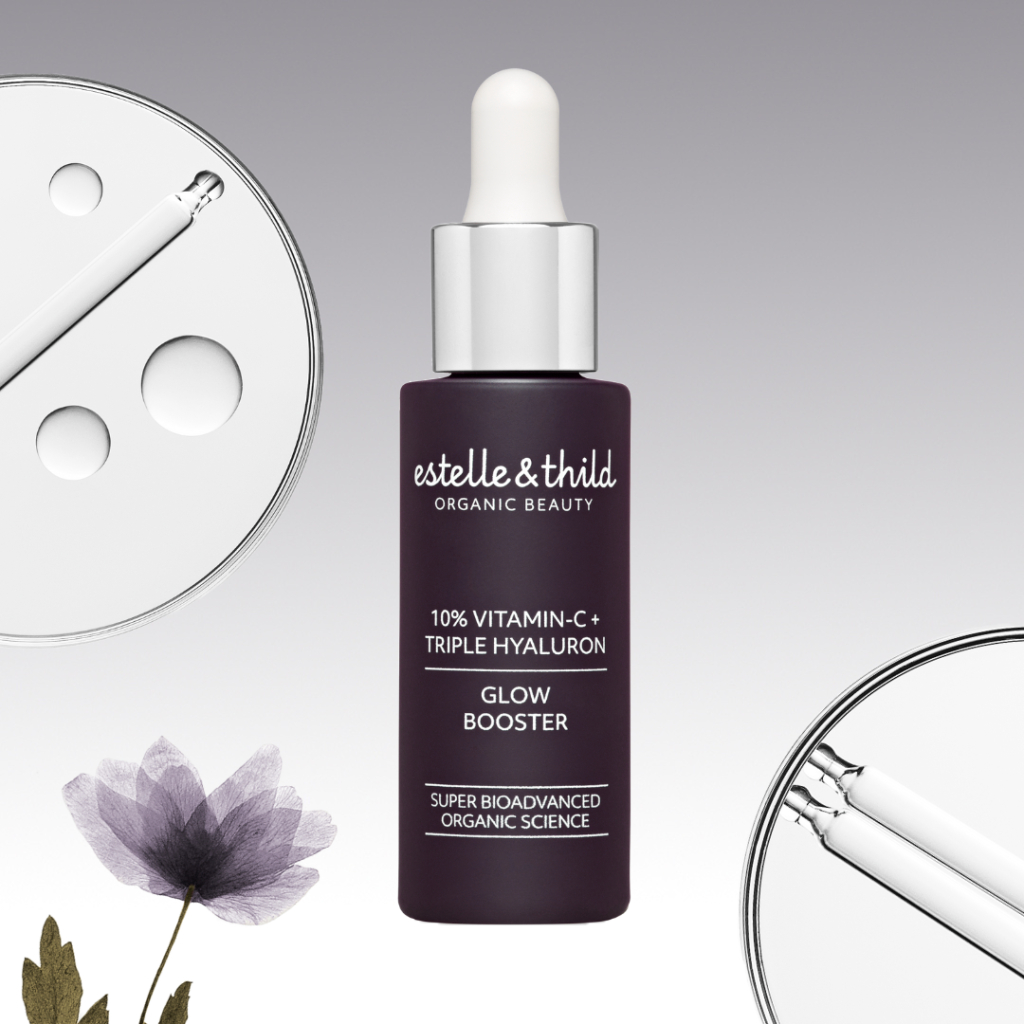 Are you looking for a product that will help keep your skin healthy, luminous and youthful? Our brand new Glow Booster is the perfect solution! With its powerful, nourishing ingredients, it will help you achieve the glowing complexion you've always been longing for; the perfect addition to take your current skincare routine to the next level.
The Glow Booster has a 10% high concentration of Vitamin-C which effectively addresses skin imperfections such as an uneven skin tone, pigment marks and age spots. Not to mention, it's infused with triple-sized Hyaluronic Acid molecules to help your skin maintain its natural moisture, both short and long-term, and decrease the appearance of fine lines. With this serum, you can look forward to a smoother, more youthful and even appearance, a brighter complexion and a decrease in pigment spots. Give it a try- you won't regret it!
Ingredient Glossary
Ascorbyl Glucoside: Vitamin-C – The Glow Vitamin
When your dreamy, glowy skin comes about- thank this ingredient! This stable form of Derivative Vitamin-C, Ascorbyl Glucoside, is a highly effective antioxidant that is activated into free Vitamin-C, known as Ascorbic Acid once it is applied to the skin. It is known for effectively penetrating the skin and is more stable than pure Ascorbic Acid.
Vitamin-C/Ascorbic acid has been proven to inhibit the formation of melanin in the skin, making it an ideal ingredient for anti-pigmentation and skin brightening treatments. This powerful antioxidant is also resistant to degradation, making Ascorbyl Glucoside the perfect choice to maximize Vitamin-C's bioactive effectiveness. With regular use, it can help fade age spots, promote collagen synthesis, reduce wrinkles and roughness, improve skin texture, neutralize skin-damaging free radicals and protect skin from UV damage. Vitamin C is an amazing asset to your skin, making it healthier, brighter, and smoother!
Hyaluronic Acid – The Moisture Miracle
We've got the key to maximizing your skin's moisture- Hyaluronic Acid! It's a natural skin hydrating biopolymer made from fermentation that has the incredible ability to attract and hold a large amount of water. Its power lies in its capacity to penetrate the skin and thereupon act as an inner moisturizing agent for a proper barrier function of the skin. Our Vitamin-C Glow Booster is formulated with triple molecular Hyaluronic Acid to provide your skin with both short and long-term hydration.
So what does each unique component of this magic molecular trio do?
The high molecular weight Hyaluronic Acid is excellent for moisturizing the uppermost part of our Epidermis (the main upper skin layer).
The medium molecular weight Hyaluronic Acid reduces skin greasiness and skin sebum production (balances skin oiliness).
Low molecular weight Hyaluronic Acid can penetrate even deeper into the Epidermis to improve skin elasticity and reduce the appearance of wrinkles.
Apple Cellular Water- The Earth-Friendly Skin Saver
Apples are not only great for supporting your body from the inside; our Vitamin-C glow booster contains Apple Cellular Water to deeply nourish your skin from the outside as well! Apple Cellular Water is an active fruit water extracted from apples, freshly picked from the tree. This is what the process looks like:
Apples ripen, and are carefully dehydrated by companies that create snacks such as dried apple chips and granola. This dehydrating process extracts all of the moisture of the apple- creating Apple Cellular Water. This solution would usually be dismissed by food companies, who view it as bootless, but that's where we come into the picture! And that's why we call it The Earth-Friendly Skin Saver- it is both sustainable and great for your skin. Here's why:
It…
-Hydrates your skin
-Supports healthy aging
-Is rich in vitamins A, B, C, D and E
-Contains essential minerals such as zinc to help promote clear and healthy skin
-Helps give you a healthy complexion
-Acts as an exfoliant
How do I use the Glow Booster?
For best results, use our Glow Booster at night on freshly cleansed skin to improve skin hydration, tone, and brightness. Apply a few drops or a thin layer to the whole face and decolleté, then gently massage and let it dry. If you have any areas of pigmentation or uneven skin tone, increase the amount of product you apply to these areas. When applying around the sensitive eye contour, only use a small amount and massage it in. This product can also be used in combination with a night cream!
Is the Glow Booster suitable for me?
The Glow Booster is suitable for all skin types, and specially recommended for unevenly toned skin or photodamaged skin.
How can the Glow Booster serve my skin?
-Youthful, glowy and healthy complexion
-An even skin tone with reduced pigment and age spots
-Smoother and more moisturized skin
FYI…
-COSMOS Certified Organic
-Vegan
-Cruelty Free
-100% Natural